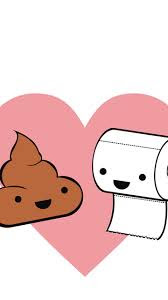 I think I've waited long enough to talk about one of the most important topics we could discuss!! Now that you've all been hooked on reading my daily updates, it's time to get into the really good stuff! A few things to keep in mind:
1- Everybody poops. Get over it, deal with it, embrace it, and learn to love it.

2-Knowing the difference between what a good bowel movement is supposed to be and what unhealthy looks like could make a HUGE difference in your life. Period. Did you realize monitoring your bowel movements not only can tell you about how well your digestive system is functioning but also how your immune system is?? This is hands down one of the most important topics I could discuss with my patients because it's something you can monitor ALL THE TIME. Way better than me sending out your blood and waiting for results. Think of it as a real time tissue sample.
FUN POOP FACTS!
1- Your poop shouldn't smell! That's right kids, if your stinking up your bathroom each time you go that means there is food rotting and fermenting in your system, and it also means you're toxic.
2-You should be going 1-3 times a day! You should be going to the bathroom for each meal you have. Think about that for a second. Your body is supposed to take in your food and process out the vitamins and nutrients necessary and get rid of the rest as waste. When you're not passing waste (don't think it's just not in there-you ate!) you are re-absorbing waste products back into your body.
3-Size, shape and color tell you so much! Every had bunny poops? you know hard dry pellets? That's likely a sign of dehydration, your body sucked in all water possible including the waste water. Is your stool dark like coffee grounds?? This is likely a sign of some internal bleeding and you need to seek medical attention. Who knew you could learn so much about yourself! Please check out the graphic below- your average movement should look like #3 or 4.
4-You sunk my battle ship!! Monitoring your poops can also tell you about proper fat processing in your body. If it floats-your passing a lot of fat (shouldn't happen) which could mean you're not able to digest fats or absorb them properly. You shouldn't absorb all fat though, so take note that a good stool should float near the top for a second then sink. (Admit it you're going to watch from now on-that's a good thing!!) Poop that sinks quicker than the titanic is usually from constipation and again, improper digestion.
One of the other very important reasons I did this detox was that I went from 3 good movements per day to 1 ok and sometimes not great movements in a day. Since beginning my detox I have regained normal bowel habits that I was previously used too. It's very important to note that NO good detox will keep you in a bathroom all day. Some products labeled as detoxes are just a combination of stool softeners and laxatives-which is not the point of a detox. Yes you should be passing your bowels more often as you are kicking out waste-you don't want it reabsorbed right? But you shouldn't be unable to leave a bathroom either. That is the scariest question I ever get when asked about a detox "will I be in the bathroom all day?". Products like that can cause dehydration and make you seriously sick!! Not to mention the colon isn't the only place where detoxification happens so products that promise a "3 day detox" are not cleaning out more than your colon and poorly at that.
This topic, while taboo to most, is one of my favorite topics because it tells me so much about your health. I ask pretty much all patients about this topic no matter what they are coming in for. In my office we focus a lot on diet and lifestyle changes because they make a HUGE impact on health and the fasted least invasive way to determine how well you digest, absorb and handle foods is by discussing this. It's also the quickest way to notice changes or improvements in ones health.
So the next time your doctor asks you about your bowel movements don't hold anything back! Impress them with your knowledge even as most traditional practitioners don't address this topic, especially with weight loss problems and auto immune disease. It is an opportunity for you to monitor your own health as well, so take advantage of the amazing body and system that was created for you and KNOW yourself better than anyone else!
For a Complimentary Natural Medicine consultation at Tranquility Spa & Wellness Center, call 630.762.9864!
Health & Happiness-
Dr. Kalli Prater DC